Here you have our selection of cafes not to be missed in the city: legendary spots, fashionable cafes and secret places to have a good coffee and more in Spain's capital.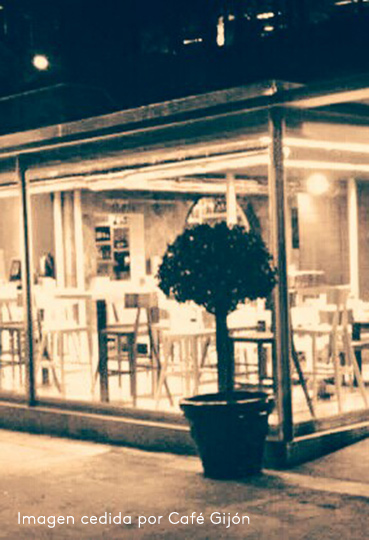 1.
Café Gijón- The most historic café
They rightfully claim that the one and only Mata Hari and more than a few other Hollywood stars have pulled up a seat to this iconic café's marble tables since its opening in 1888. But if there is one thing that the Gran Café Gijón is famous for it's for being the main meeting spot for some of the most famous social gatherings among authors and artists of the time such as Federico García Lorca, Dalí, Buñuel, Rubén Darío, Ramón Gómez de la Serna, to name just a few.
Situated on one of the capital's most majestic streets, Café Gijón, with its antique mirrors and velvet upholstery, appears to have stopped time and carries us back to an era where changing the world with dialect and oratory was the order of the day.
Just out of curiosity: Café Gijón has been the inspiration for 12 books.
Perfect for: fans of literature and history buffs.
Look: Classy.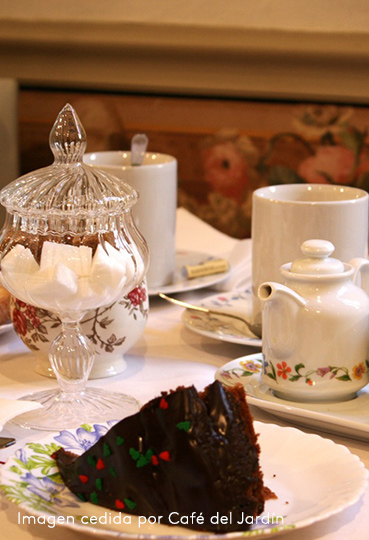 2.
El Café del Jardín- the most romantic
Just a few steps away from the bustling Tribunal area hides this little café that emulates XIX century tea halls. Located in the National Romanticism Museum, this charming space insists on remaining a secret. We recommend that you take a look at the outside garden with its old fountain and lush trees. Perfect for when the weather decides to be a bit more compliant.
What to drink? They speak wonders of their marvellous gourmet coffees like the "Cajamarca".
Perfect for those looking for a little intimacy or those who may hide some little secret.
Look: Romantic.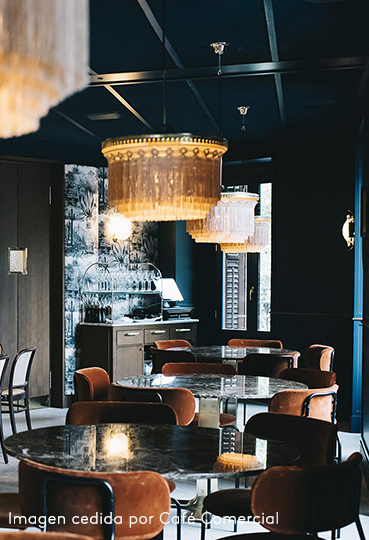 3.
Café Comercial- the rebirth of Madrid's oldest café
A classic among the classics, few are those from Madrid who haven't shared a Sunday afternoon and a café latte in the Café Comercial with its endless mirrors as their witness.
That's why in June 2015 when they announced its imminent closing after 128 years of business, the Madrid locals received the news with much dismay; a huge piece of history was being left behind the revolving door of Café Comercial.
False alarm: New owners and two years later, in 2017, it was reopening with a new more contemporary look while remaining true to its unique bohemian spirit that it was characterized by.
To commemorate your moment in one of the most famous cafes in Madrid, take a picture in the photo booth located in the bathroom… way better than any selfie.
Perfect: for a mid-afternoon date or for those looking for authenticity with a touch of glamour.
An interesting titbit: they say that it was the first café to employ women.
What to order here? Chocolate and churros are a Sunday afternoon classic. For an aperitif, have an artisan vermouth while leaning on the bar, declared a national pastime.
Look: Vintage.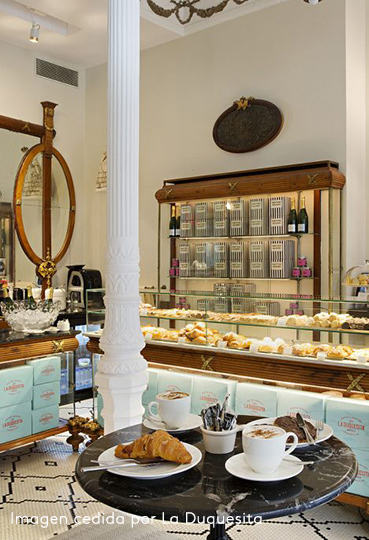 4.
La Duquesita- unforgettable heart-shaped puff pastry
In one of the Capital's most trendy areas, between buildings from the XIX century, clothing stores and concept stores we find La Duquesita, a one-hundred-year-old pastry shop whose sweet delicious treats conquered the one and only New York Times.
La Duquesita, an old-fashioned pastry shop famous for its heart-shaped chocolate puff pastry and its epic king's cakes was reopened in 2015 under the hand of pastry chef Oriol Balaguer who, wisely, decided to keep the house classics alongside new creations in fine pastries.
Pay attention to its beautiful facades that are reminiscent of the historical shops in Paris.
Perfect: for the stubborn sweet-toothed
What to order here? You guessed it, a heart-shaped puff pastry.
Look: French.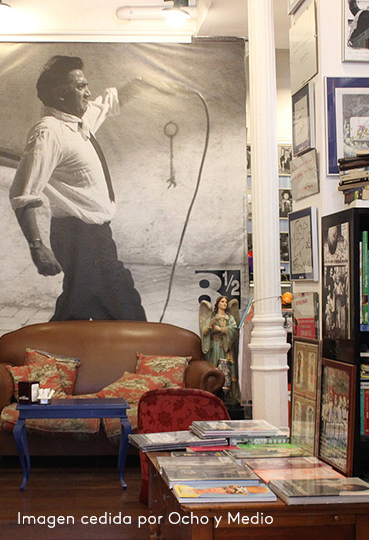 5.
Via Margutta, a café for movie buff
Via Margutta was the name of the Street where Audrey Hepburn and Gregory Peck lived together in the movie Roman Holiday and the chosen street for the bookstore that specializes in the Seventh Art "Ocho y Medio Libros de Cine" for its café. A charming space full of books, movie posters and more or less creative junk.
Perfect: Without a doubt for movie buffs, but also for those who are looking for something unique and different.
What to order? A Buñuel toast (ham and tomato) or a "Relatos Salvajes" (Argentinian empanada) accompanied by a "Pirates of the Caribbean shake, and you're off to a very good start.
Look: Urban Hippie.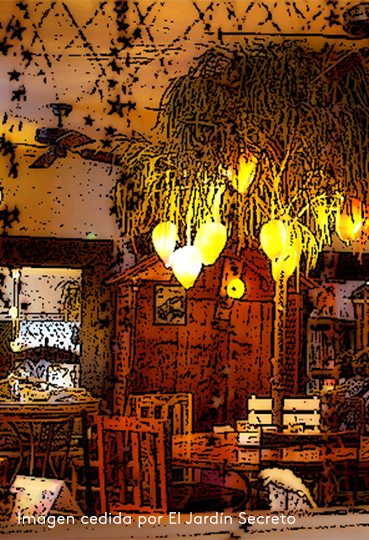 6.
El Jardín Secreto: like a fairytale
"(…) a magical place taken right out of a storybook. You'll be surprised when you open our blue door: time changes its rhythm and you'll feel transported to a kingdom of fantasy". This is the suggestive promise of El Jardin Secreto located at 2 Conde Duque Street. The owners wanted to replicate the concept of northern European cafes with their calm space to converse while having an afternoon snack, having dinner or simply a drink.
It is true that its unique decoration and the vast amount of small details really turn El Jardin into an almost magical spot.
Perfect: To catch up and let the time pass by. According to the owners, it is also ideal for a first date.
A Little secret: twice a year they have a flea market where they sell furniture and objects from the café. If you like something (which I am sure you will) now you know how to buy it.
What to order? What wouldn't we order would be the better question to ask. Desserts are a big hit here: "chocolate orgasm" or "love at first bite" are simply a must. Café "peta zetas" or "lago de las hadas" seem to be the perfect accompaniment.
Look: Bohemian.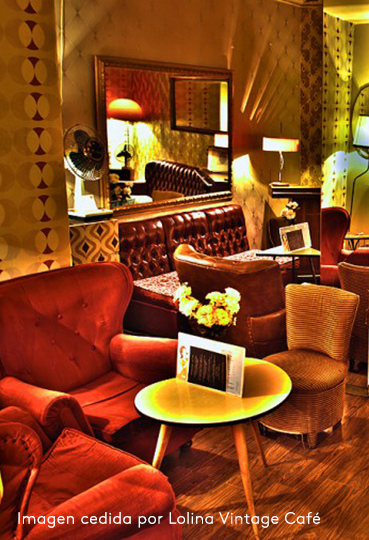 7.
Lolina Vintage Café- perfect for work
What makes a café the perfect place to work? A good wifi connection, a calm cozy space and a good menu filled with snacks to keep the mood while we pound out our thoughts on the keyboard. If we add to that its vintage style inspired in the 50's, 60's and 70's with original furniture and wallpaper, well, you have the Lolina Vintage Café; one of Malasaña neighbourhood's most symbolic cafes.
Perfect: to find inspiration in our work, or in the history of life or simply to chat with that friend we haven't seen in a while.
What to order? Without a doubt, the carrot cake ("the world's best" according to one of the neighbourhood regulars).
Look: Power Work.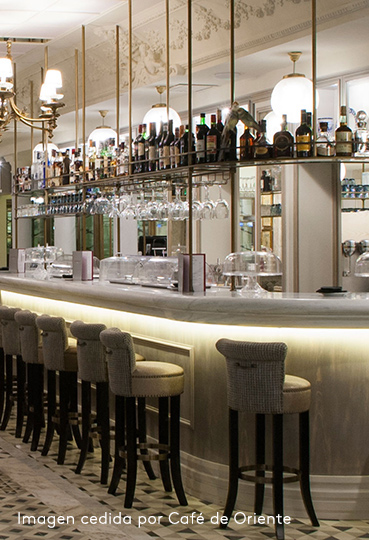 8.
Café de Oriente- elegant sophistication
Situated in the Plaza de Oriente, in front of the Palacio Real, this romantically decorated café restaurant is the perfect place to have a midafternoon drink on a cold winter's day while contemplating all the passerbyers from its enormous picture windows.
If you can, take a seat at table number 9. This is where the philosopher and Madrid Mayor Enrique Tierno Galván usually sat to have his breakfast. A table they say "can make both talent and intelligence vulnerable".
Perfect: for those looking for the style and glamour of times past.
Have a Gin Tonic because, for some odd reason, it's just what the ambient calls for.
Look: Urban Chic.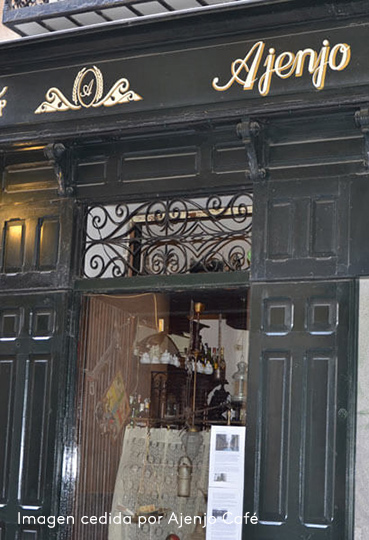 9.
Café Ajenjo- a trip back in time
Once again in the Malasaña neighbourhood, we find ourselves this marvellous café; "decorated in the style of an era when our children played in the streets and we didn't have a television or a telephone at home". One of these cafes from back in the day where the time passes by easily while enjoying a cup of rich hot chocolate and a good conversation (no cell phones here people).
We've literally succumbed to the antique ceramic flat wear, typical from Grandma's house, as well as to the waiters who tell tales of the old Madrid. Perfect for a winter afternoon.
For: for all who are looking for that authentic café feel. A bonus here are the board games, parcheesi, checkers,... The time really flies here.
Look: Classy Vintage.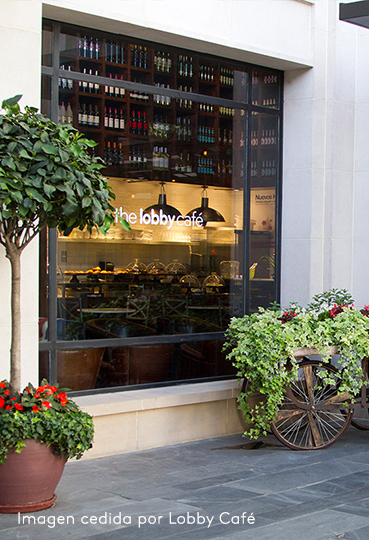 10.
The Lobby Café
British decoration and a super cozy space are what The Lobby Café in Las Rozas Village offers: Chester sofas, fluffy pillows, and leather chairs make up the interior of this ever so cozy café that you won't want to leave. It is the perfect spot for a little break in your shopping day.
What you can't miss: its marvellous terrace, perfect on a warm sunny day, but also on those winter days in Madrid when even though it's cold, the sun shines down in all her splendour.
Why not try their selection of teas and their unforgettable sweet treats? You'll also find great options for a light lunch.
Look: Modern Casual.
Tags: planes en madrid madrid shopping tea time